Purchased from:
1stvwparts.com
, VW part number: ZVW-179-004A
These mats were unavailable from my local dealer, as well as other online vendors. 30+ days out according to local dealer.
These fit mid 2004+ models with oval retention posts in the floor. Earlier models use a round post and mats won't fit without additional work.
1stvwparts.com had them in stock and shipped the same day.
When they arrived, they were missing one of the rear retention post pieces: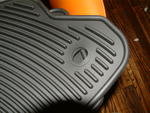 This should be easily fixed if I can get a new insert.
The rear mats fit the car VERY POORLY, though. These are slush and snow mats, so I'd really expect better rear floor coverage. See the Monster mat over the OE carpet mat: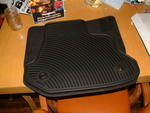 This is a fairly bad design on VW's part. I'm waiting to hear back from the vendor regarding this before I contact VW.
[Edit]
Vendor replied, said he just had the same problem with the rear mats for his R32.
Found a post on Vortex that might explain this. I'm going to look into this later today to compare to the seat frame in the Wagon. It also suggests that for the side fit, I may have them swapped left/right.
http://forums.vwvortex.com/zerothread?id=464259
"The monster mats are a lot taller than stock mats which necessitates the no coverage area that you are talking about. If you look at where the seat bracket is when you slide your seat back, notice how low it goes. It would for sure catch on the monster mat ridges if there wasnt a "cut out" there. Ive had mine in for a few weeks now and I carry people in the back alot. My friends are f'ing pigs, they track any and everything into my car, but I still dont get dirt/leaves/sand outside of the rear mat area because the grooves trap it in and dont let it get off the mat."
[/Edit]
No pictures yet of the front mats, though they too leave a bit to be desired...the drivers mat stops just before the pedals, so any mud and dirt that falls off your shoes while using the pedals falls on the carpet. Passenger mat really should cover the prominant wheel-well hump, but doesn't. (carpet mat doesn't cover this either.)
Installed March 2 2004